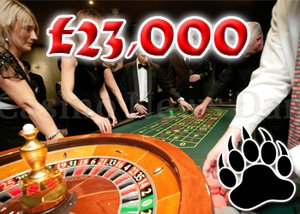 In a move that seems like something straight out of a crime movie, a couple of casino croupiers stole around £23,000 by fixing spins in roulette.
There's a lot of temptation for casino staff to set up elaborate cheating systems that work with buddies who come in posing as regular players. That temptation was two much for Craig Walker and Daniel Johnson who worked at the Coral Island Casino in Blackpool, Lancashire. They put together a scheme that allowed them to signal to a friend when a certain number was going to come up on the roulette wheel, and they used this scheme to scam the casino out of around £23,000.
How the Scam Worked
In roulette, there's a thing called a "no spin" which is when the croupier spins the ball in a way that it stays on one number the entire time. Once they figured out they could perform this type of spin consistently, they had their friend Kevin Traynor come in and take advantage. Traynor would bet normally, and then when they gave the signal of scratching their head, he would up his bet and walk away with big winnings.
They were caught when Richard Monroe, casino manager at Coral Island, noticed that Traynor's patterns for betting on the games were atypical. He asked members of staff to watch the player, and it didn't take long for them to uncover the scam. What's interesting is that this went on for two months before it was discovered. If they had been more subtle about it, then it might have taken a much longer time for them to be caught, if they were ever caught at all.
Sentencing and Punishment
Walker was given 14 months in jail, and Johnson was given 12 months in jail. Traynor was given nine months, but it was suspended in exchange for unpaid work to the tune of 200 hours. That works out to a little over 22 hours each month he would have been in jail, and that seems like a reasonable arrangement for him.