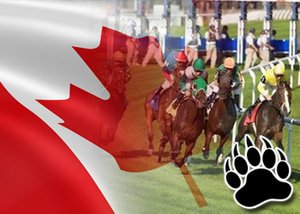 With the U.S. Triple Crown just over a week away from getting started in Kentucky, three-year-olds eyeing up its Canadian counterpart are taking their time in preparation.
This is one of the benefits of starting Canada's big race two months later on the first Sunday of July, versus the first Saturday of May. With this in mind at Woodbine on Sunday there were some serious contenders for the 2016 Queen's Plate contesting for the $100,000 Wando Stakes.
A New Synthetic racing Surface To Get Things Underway
For many there was an opportunity to have a first look at the new Tapeta synthetic racing surface which will be prominent in the 2016 Queen's Plate. This had replaced the aging Polytrack, which had been used since the summer of 2006. Another change was the use of the Trakus system of transponders for timing the race, as opposed to the previous traditional teletimer beams.
Headlining this field of seven which was ultimately won by Bear'sway ridden by the highly confident jockey Eurico Rosa da Silva, was Ami's Gizmo, Josie Carroll's undefeated colt who was making his long awaited three-year-old debut. Although things may not have panned out quite as expected, due to the schedule unlike those with an eye on the Kentucky, colts gearing up for the Plate, can take more time on their development.
In the past, Carroll has taken full advantage of this with the Ivan Dalos homebred. Ami's Gizmo who had won all four of his two year old stake races had been given plenty of time to rest so as to recover and mature over this last winter. Carroll had tested the waters previously with some Canadian-breds in some early Derby preparation races, most notably with Ami's Flatter, who for all intents and purposes was totally burned out come the time of the Queen's Plate, ending up a disappointing eighth.
And Finally A Word On Control The Moment & Mike Saftic
If you have been wondering when one of Canada's best freshman pacing colts from last year, Control The Moment will be ready to make his debut amongst the three-year olds, Brad Maxwell his trainer is looking towards Mohawk and the Somebeachsomewhere Stakes in early June, and has an eye on Campbellville track later that month with its $1million North American Cup.
Mike Saftic, long time Mohawk-Woodbine regular is due to be initiated into his home town Sudbury Sports Hall of Fame later on in the summer. Saftic a long-time veteran has won in excess of $96 million in purse money throughout his enviable and distinguished career.