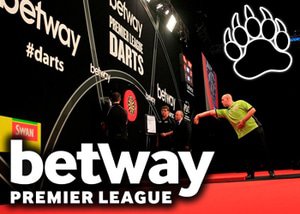 Betway have just announced the ten player line-up for this year's 2016 Premier League Darts and it's destined to become a historical event with a record payout pool of 1.5 million CAD to be divided up amongst its winners.
In the line-up for the 2016 Premier League Darts event are notable participants that include the reigning champion Gary Anderson, Adrian Lewis, Michael von Gerwen, and Darts Champion legend, the one and only Phil Taylor. Also taking part and making up the numbers as the 6 Wildcards, will be Peter Wright, Raymond von Barnveld, Robert Thornton, Michael Smith, David Chisnall and James Wade.
The Origins Of The Tournament And Where It All Began
Betway casino or to be more accurate Betway, are one of a series of sponsors that have sponsored this Darts tournament since it was first launched on January 20, 2005, by Sky Sports TV.
The league which is now played every week from February until May, originally started out being a fixture that was played every two weeks. It started out featuring seven players and now it's home to ten of the game's biggest stars who compete in the PDC circuit, with all the matches held across Ireland and the United Kingdom, at various different locations and venues.
Just like with the Premiership Football League which launched in 1993, Premier League Darts with its Sky Sports connection, enjoys a massive global following and attracts sponsorship deals from companies who are only too pleased to put up the prize fund, in return for the massive exposure to their company brand.
The 2007 Prize fund was 530,000CAD and in 2008 it rose to 684,000CAD. It has steadily increased year on year and in 2014, it finally went over the million mark weighing in at a cool million with the current winner share of the pot standing at 300,000CAD.
The most successful player since the inception of the tournament has been the amiable Phil "The Power" Taylor. He has totally dominated proceedings having won 6 out of the 11 competitions, so far to date.
Whether Taylor has what it takes to make it a Lucky 7 times as the 2016 Premier League Darts Champion remains to be seen. One thing's for sure though, all fans will have a favorite and the betting will be frequent and often, as the tournament progresses throughout it's different stages, with huge quantities of beer consumed at the live event. These fans are party animals, you better believe it!