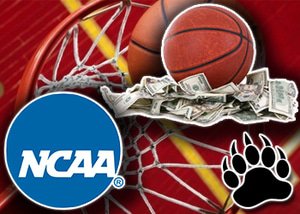 According to information recently released by the NGCB, otherwise known as the Nevada State Gaming Control Board, the NCAA Tournament for 2015 has broken new ground and shattered Las Vegas gambling records.
Last year the previous highest record was set with over $343 million in wagers. This has now been eclipsed with college Basketball and NBA wagers during March Madness accounting for a massive $375.5 million, edging closer and closer year on year towards the $400 million mark.
According to Covers.com around 70% of this figure, is exclusively down to college hoops, that's a figure of $263 million just on this alone, although these figures, only represent the sportsbooks from Vegas.
Floyd Mayweather Type Money
The Nevada State Gaming Control Board when it comes to gauging monies taken by state sportsbooks, does not differentiate between college Basketball or Pro Basketball. Of the grand total last year of $343,539.823, $27.9 million represented 7.44% on basketball win bets, not surprisingly another state record when it comes to Basketball win wagers.
The books overall made $18.5 million on sports gambling for March 2015, again a significant increase from March 2014 where $12.8 million was earned and also March 2013, which was slightly higher than March 2014 with profits of $12.9 million, collectively.
As usual Vegas always comes up trumps, so too it must be said, has college Basketball. That of course wouldn't be without the craving of the sporting public and their strong desire to wager on such events.
The NCAA Tournament brings all the sports bettors together being only second in popularity to the Super Bowl. With its continuous three weekend format, it also provides lots of hot debate and talking points and when people have very strong opinions, many wish to put their money where their mouth is.
So what are the latest forecasts for next season, surely it would be too early to tell, what with so many variables that need to be taken into account? Well looking towards 2016 and next season, there are already four co-favorites that have already emerged, even though there is plenty of time to place a bet.
North Carolina, Michigan State, Kentucky and Duke, all lock arms as co-favorites at 10/1. Might these just be the best odds available at Sports Interaction one can get for the team they really fancy, or is it wiser to wait till closer to the event? Well that really could be a gamble, couldn't it!