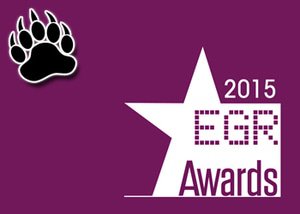 Monday November 23, saw the 2015 eGR Winners announced.
Hosted by Canadian comedian Katherine Ryan, the glittering award ceremony was held at the Artillery Garden at the HAC in London, and in attendance were over 600 industry professionals, representing the world's largest eGaming companies.
There were many 2015 eGR winners for different categories as is always the case. Gala Coral fought off strong competition and were crowned Operator of the Year, the company's Gala Bingo operation also walked away with two coveted prizes, and received gongs for both Bingo Product and Bingo Operator of the year.
One of the evening's other big winners was Sky Betting & Gaming, who won four awards in total. They won for Mobile Sports Product, Mobile Operator, Mobile Poker Product and Horse Race Betting Operator.
The Leeds-based company also received a commendation from the judges in the Sports Betting Operator category, however the main prize itself was once again awarded to Stoke-on-Trent operators Bet365, with Tombola scooping up the spoils for Socially Responsible & Customer Services.
2014's Operator of the Year William Hill despite losing their crown, also grabbed the headlines in the form of their award for In-House Product for their highly acclaimed Priority Access Card, and also for In-Play Operator of the year.
LeoVegas (Canada accepted) were handed the Slots Operator of the Year award, whilst Paddy Power (Canadians not accepted) walked away with the Casino Operator prize, also Canada's Amaya Gaming-owned PokerStars, picked up the gong for Poker Operator.
SkyBetting & Gaming CEO Applauds His Team
The 2015 eGR Winners spoke of their delight in walking away with their award, especially the representative for Sky Betting and Gaming.
Richard Flint CEO who's company had a hugely successful evening walking away with four different awards, including picking up the Mobile Operator of the Year and Horse Race Betting Operator for the second year in a row. He claimed that the eGR Operator Awards are widely acknowledged and recognised by insiders, as the leading awards ceremony in the industry.
Regarding the company's recognition in Horse Racing, he concluded "It is great that our recent success in horseracing has been recognised and I would like to thank and congratulate the team who have really improved our approach and focus in this area."