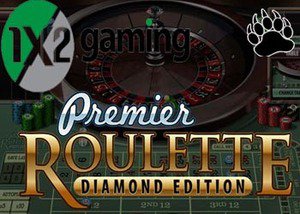 Enjoy traditional European Roulette with an improved return to player ratio and an increase in board numbers that is sure to provide more action with every spin.
1x2 Gaming has recently announced the brand-new addition to their ever-growing portfolio of innovative table games. The game is called Roulette Diamond and it's essentially based on the traditional game of European Roulette but with a few added modifications to make the game more appealing to players around the world.
1x2 Gaming delivers impressive game releases and has been at the forefront of the online gaming universe since opening its doors in 2003. Roulette Diamond is yet another premium game from the renowned software developer and boasts attractive features, stunning graphics, and crystal-clear sound effects that are sure to satisfy even the most avid roulette enthusiast.
Roulette Diamond Layout & Betting
The defining feature in the new Roulette Diamond game is the innovative diamond-shaped betting layout that incorporates a mix of black and red numbers along with the zero situated at the top. Players will also notice that the Roulette Diamond board comes equipped with 41 numbers as oppose to 37 numbers you'll find in a traditional game of European Roulette. This offers a greater variety of betting options that will appeal to both traditional players and those looking for a table/slot game hybrid.
Complementing the industry first diamond-shaped betting board is an assortment of wagering options to further enhance the overall gaming experience. Most betting options are very similar to traditional European roulette, but there are also a handful of unique bets that can be placed thanks to the unusual layout of the board. Players will also notice that some bets in Roulette Diamond even offer a higher payout rate when compared to traditional roulette. For instance, a single number will pay 39 to 1 as opposed to 37 to 1 in a traditional European roulette game.
Roulette Diamond Wheel
Apart from an increase in numbers and the unusual layout, Roulette Diamond also doesn't feature a traditional roulette wheel that you'll find in most roulette games. Once your bets are placed, a virtual ball will roll across the numbers instead and will eventually come to a standstill to determine the winning number. This provides the fascinating cross between table games and video slots while playing Roulette Diamond.
In addition, Roulette Diamond will also come equipped with a ground-breaking multi-ball feature which will allow players to enjoy more than one spin at any given time. This is especially handy for those that can't get enough action while playing traditional roulette. The multi-ball feature will be subject to regulatory requirements and therefore it might not be available at every online casino that features Roulette Diamond.
Where to Play Roulette Diamond
With fast-paced gameplay functionality, exceptional graphics, and even bigger winning possibilities on the brand-new diamond-shaped betting layout, 1x2 Gaming is expecting this hybrid game to take the world by storm. For those interested in the game can soon play Roulette Diamond at Codeta Casino on both desktop and mobile devices.
First-time players will qualify for a generous welcome bonus which includes a 100% match up to $300 on their first deposit. This bonus is subject to 30x wagering requirements. The casino's full terms and conditions apply.