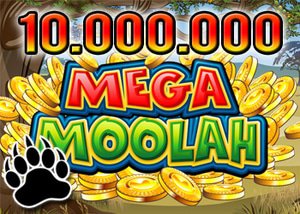 The internet is buzzing as news of the Mega Moolah progressive jackpot that has now surpassed $10 million is spreading across continents to all corners of the globe.
In just a few days there has been an influx of thousands of players chasing the big dream at Microgaming casinos, which is inadvertently pushing the prize pot to new heights - and at lightning speeds. Dubbed the "Million Maker", we have seen the game transform the lives of hundreds of players over the years... yet this is the first time that the pot has broken the 8-figure barrier. We don't know when, where or who... but what we do know, with a guarantee, is that somewhere, sometime soon, someone is going to go down in history as the biggest Mega Moolah progressive jackpot multi-millionaire of all times!
Previous Big Mega Moolah Jackpot Winners
In April 2015, Mark from Canada won the biggest every single payout on a progressive jackpot slot to date, landing over $7.5 million on Mega Moolah at Royal Vegas mobile casino. Not only was this the biggest jackpot payout since the dawn of the internet gambling era, it was also the largest win ever achieved on a mobile device. Prior to Mark's life altering win, the record stood at $6.4 million, paid out at River Belle casino to Georgios from Greece. Ever since, jackpot wins on Mega Moolah have been chronicled every 16 - 20 weeks, with a calculated average of $3.5 million.
The Fastest Accumulating Jackpot Online!
Although the pot had reset to its base value of $1 million in April, the jackpot ticker has been ticking upwards faster than ever before. In the first week of August 2015 we saw Mega Moolah breach the $9million mark, with the prize pot hovering around $9.2million - and in less than two weeks the jackpot has grown by an additional $1 million! To put things into perspective - in just four months the Mega Moolah jackpot value has multiplied by 8X, which means an average growth pattern of two million dollars every four weeks.
Now is the Time to Play Mega Moolah
The jackpot is growing with every passing second and the next spin could very well deliver the next big win! Don't miss out on this once-in-a-lifetime opportunity to play for the biggest jackpot in online gambling history... Join one of our top recommended Canadian casinos such as Tropezia Palace and Jackpot City right now! As we've said, somewhere and sometime soon someone will become the next mega millionaire and looking at the stats and the size of the jackpot - now is as good a time as ever to play Mega Moolah progressive slot!