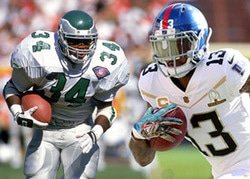 NFL betting is very popular and I'm sure you've done it plenty of times while you've been sitting watching the games on TV. How many times have you predicted the end of game score and been correct? There is a great sense of satisfaction in seeing your predictions play out and what if you could do that for real money? It's actually easier than you think and once you know the odds and lines you can use your NFL knowledge to win real money. We've done all the hard work for you here on our site and compiled a list of the best sports sites that offer great bonuses and incentives. You can join the millions of Canadian players who partake in NFL bets online and everything you need to know can be found on this page.
NFL Betting Odds
Betting on the NFL can be great fun but when it comes to wagering for real money you need to know how to read correctly. You also have to understand what they mean. When you visit any of our recommended sports sites, you will notice that they all have a format in which they display their bets. The first piece of information that you will see is the date and time of each game and this is an easy indication of what games are playing and when. It's also the quickest way to find the game you want to bet on.
The next piece of information displayed, usually to the right of the date and time, is the rotation number. This is a unique game code and it helps sites to identify the game. It can also be very useful for comparing across a number of different sportsbooks. You will also find the team name which is then followed by several columns of numbers that represent the odds for the different bet on NFL lines that are available.
The different lines and spreads have been explained in the above section of this page which will provide you with information on how to make your picks.
Football NFL Lines
If you choose to bet on an NFL Moneyline there will be no point spread. Any bets placed on the Moneyline means that you are picking and betting on the team that you think will win. The payouts have a greater range than those of point spreads and this is often seen as the easiest wager to place. There is also no handicap, you just bet on the winner and hope they come out on top.
NFL Football Spreads
The point spread bet is probably the most common when it comes to NFL bets. Point spreads are created for every game in the NFL season and a favorite and underdog are chosen and a specific number of points are set on the line. The team favored to win the game gives points on the line and the underdog receives the points. The reasoning behind this is to even the playing field. Oddsmakers spend a lot of time researching every aspect of the game and the teams before them come out with their game line.
There are betting lines available for the quarter, half, and halftime odds for each game and the lines work just the same as if you were betting against the spread for the entire game. For quarter lines players bet on the favorite or underdog and the bet is won by picking the team that covers the line for that quarter.
Halftime point spreads are odds that are placed on the first half of the game only. These types of spreads are similar to betting lines and just like halftime odds too. A second half line is only installed after the first half has been played as a lot can happen to determine the odds and lines such as injuries, game flow, and more.
NFL Betting Explained
There are a number of terms that you will need to be familiar with when it comes to reading correctly. It is important to understand what they mean we have a brief explanation of the most common odds below:
Point Spread: In the point spread the teams listed all have the same number but the odds have a plus or a minus sign. The favorite team has a minus sign, while the underdog will be listed with a plus sign. Picking the favorite team means that you only win you bet if you take the spread from the final score and your team still ends up scoring more points than the underdog. In simpler terms, the favorite team you bet on must win and have a difference greater than the spread. If you bet on the underdog you team has to win or the difference between the two teams is less than the spread. There is also an Even or Pick where both teams are considered equal and in this case, an outright win is what is required to take home the cash.
Over/Under: The over/under bet on football is also known as total and refers to the total number of points both teams score by the end of the game. With this type of bet, you are required to predict whether the teams combined total score will be over or under the total listed.
Money Line: With the money line bet, you only win if your team wins. The amounts listed in the money line column indicate how much money you have to bet in order to win C$100. You will find minus and plus signs with this NFL bet too and these refer to the favored and underdogs. For example, a money line of -140/+110 means that a wager of C$140 is needed on the favorite team to win C$100 and a wager of C$100 on the underdog will win you C$110.
Futures: NFL futures is placing a bet on the future Super Bowl champion. You will find lines that change during the season depending on a team's success or failure and sports sites will continually update the odds and favorite picks. Futures can be profitable especially if you predict the winner early in the season.
Bet on NFL Football
We would be lying if we said that luck didn't play a vital part in NFL betting. There are so many factors that contribute to the final score and many of these are out of your control. You can't control the weather, how a player is feeling, or whether someone gets injured. That being said, there are a number of things you can control and there are tips and strategies that you can apply to help strengthen your chances of taking home some cash. It is always a good idea to keep an eye on the different trends each season. Below you will find some of our betting on the NFL tips and strategies that you can apply at our featured sportsbook.
Create a budget and set limits. Bankroll management is very important and when you are betting on the NFL season it is a good idea to have a budget in mind. Only bet what you can afford to lose. You can come up with a weekly or monthly budget or a full season bankroll. Whatever suits you best.
Read all you can about strategies and follow the NFL news for the team you support, their opponents, and the season trends. Knowing what the general trend is can help you make a more informed decision when playing for real money.
Look at the weekly edges. Don't play every game, this can be disastrous. You need to find the edges and use them. Find a number of good plays each week and bet on these.
Compare across a number of different sports betting sites. This is called line shopping and it can be valuable. We recommend that you sign up to some of our best NFL sportsbooks and compare the lines before you place your bets. This strategy could be just the thing to help you win some extra money this season.
Bet wisely. We recommend you bet sober and if you do lose, which is inevitable, don't let your emotions get the better of you. Everyone loses even professionals. Stay on top of things and don't make poor decisions when it comes to wager for real money.
Find a reputable NFL betting site. It goes without saying that if you want to wager and win real money you need to find a trusted site. Every site we list has been put through vigorous tests to ensure that Canadian sports fans get a site they can trust. You can wager in Canadian dollars and they all offer excellent welcome bonuses.
What are the Superbowl Odds for 2023
The NFL campaign officially began on the 7th of January with playoffs betting underway. When it comes to lists there are plenty out there. At present it looks like the New England Patriots are +190 favorites to win the Lombardi Trophy in February, with the Dallas Cowboys (+450), Green Bay Packers (+700), Pittsburgh Steelers (+800), Atlanta Falcons (+800), Kansas City Chiefs (+925), New York Giants (+1200), Seattle Seahawks (+1200), Houston Texans (+6600), Oakland Raiders (+6600), Detroit Lions (+7500) and Miami Dolphins (+7500). Wagers are available on all of the above and lines and spreads can be found on all the best NFL sports betting sites.