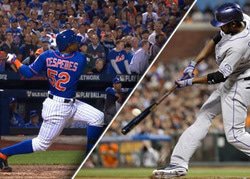 MLB baseball is one of the most popular sports in Canada and the USA. It also has a very loyal following and that is what makes bets on MLB so popular. Online sports betting allows Canadians to place real money bets on every game right from the comfort of their own home. We have created this helpful betting guide to make things easy for you. We advise on the best sports betting sites, explain odds and lines, tell you about the top strategies and tips, and so much more. The MBL baseball league has 30 teams and was founded back in 1903. The 30 teams are split into two sets of 15 teams which play in the American League (AL) and the National League (NL). There are 162 games in each season and five teams from each of the two leagues advance into what leads up to the World Series. If you want to bet on baseball, keep reading this page to find out all you need to know.
MLB Betting Odds
Odds consist of money line bets and are fairly easy to read. They are shown with a positive and a negative value and the amount of money you can win is determined by the moneyline odds that are listed in the odds. A negative number shows you how much money you have to bet in order to win $100. A positive number shows you how much money you win if you place a wager of $100.
MLB betting can be great fun but when you are gambling for real money it is important to know how to read the odds listed on sportsbetting sites. It's not just being able to read them either, you have to understand what they mean. There is a format in which bet on MLB odds and lines are displayed and you will see this on any of our recommended sports websites. The first piece of information you will see if the date and time of each game. This is the easiest way to choose the game you want to bet on.
Following this and usually to the right-hand side, you will find the betting odds for the different lines that are available. The different lines and spreads have already been explained above and this will help you make your picks.
Baseball MLB Betting Lines
Betting on the money line is quite simply placing money on the winner of the game. There is no run line or point spread. If you think a team is going to win, you place your bet on them. The payouts on the money line bet can look a lot different to those on the run line. The payouts for the favorite might be a lot less. This is the easiest bet on baseball to place but remember, the payout won't be as much.
Baseball MLB Betting Spreads
In baseball betting, spreads are called run lines and are a unique baseball bet that can be profitable for gamblers that have done their homework on statistics, trends, and performance. Run line betting is popular particularly late in the season when there is plenty of team statistics and betting trends available. A runline bet is a 1.5 point spread. There is a big difference in the odds and payouts between the run line and moneyline and it's well worth doing your homework before making your betting choice.
Bet on MLB Explained
There is a wide range of MBL bets that you can place. These include betting on lines, point spreads, over/undress, and parlay. Odds are listed in American Format (+100, -100) but you will see some odds in decimal and fraction formats too. Below you will find information on the most popular MLB betting types and what they mean.
Point Spread: Betting on lines are different from other major sports like football and basketball. All the other sports offer point spreads along with money lines, but with baseball, bets are more money line based with the only point spreads being + or -1.5 runs for a game. The run line is similar to a point spread but it is consistent across the board and the run line stays a 1.5. The changes come in the payouts. For every game played, oddsmakers will set a team to have to cover 1.5 runs by winning by two or more, and a team to cover by losing by one run.
Money Line: These are the easiest bets especially if you are new to MLB betting. You simply place your wager on the team that you think will win the game. If you think the Dodgers are going to win you place your money on them. The payouts for this bet can look a lot different to the point spread or run line and the payouts for the favorite tend to be a lot less. The payouts for the underdog, however, tend to be a lot higher. The favorite and the underdog are determined by the sports book and have two separate odds which contain a plus and a minus. For example, if the Braves are listed as +120 and the Phillies -130, the Phillies are the favorite to win the game. A player would have to wager $10 on the Braves to win $120 but it would cost $130 to win $100 on the Phillies.
Over/Under:In this bet on baseball, gamblers can wager on whether the combined run total will be over or under what the sports book have set before the gameplay starts. This is essentially making a guess on whether or not the sports book's prediction is right or wrong.
Futures:This bet is made before the end of the regular season or playoffs, and it is where you bet on the odds of a team winning the World Series, division, or league. If the team you bet on is a long shot, the bigger the payout you will get if they win.
Bet on Baseball
Betting on MLB for beginners may sound like a lot of hard work, what with learning about rules, statistics, predictions, trends, stats, picks, systems, and more, but we have some tips to help you get the most out of your experience.
If you plan to bet online, you can choose from a wide range of odds on every game. If you plan to bet on the favorite team you will normally need to place a wager higher than $110 to win something. There are lots of baseball bets that you can place and online gamblers can take advantage of lots of different options and strategies to increase their chances of winning.
One top strategy is to keep an eye out for updated odds on your favorite sportsbooks. Odds are constantly updated depending on a team's performance and it is advisable to place your baseball bets when the odds are favorable for you. Our recommended sportsbook has the best odds so be sure to check it out.
Canadian fans will want to look for the best odds on the Toronto Blue Jays, but remember there is plenty of action available every day once the season starts. Baseball gambling has better winning odds than other sports like Football and Basketball and gamblers can claim a significant profit with a sub 50% win rate.
It is important to remember that there are 8+ games every day and the frequency of the games means that betting on MLB enthusiasts always need to remember to have patience and not to overextend their bankroll by betting on every game. Stick with your budget and choose your picks wisely.
If you do want to increase your chances of winning you need to make sure that betting on underdogs is part of your strategy.
What are the World Series Odds for 2022
The latest odds for the World Series are out for each of the 30 teams along with each team's odds to win their respective league's championship. Coming out in front are the Chicago Cubs with odds of 7-2, the Boston Red Sox are next with odds of 6, Los Angeles Dodgers at 7, Cleveland Indians at 9, Washington Nationals at 10, the New York Mets at 12, and Houston Astros at 12. The Toronto Blue Jays began the season with opening odds of 14-1 and they now have updated odds of 20.